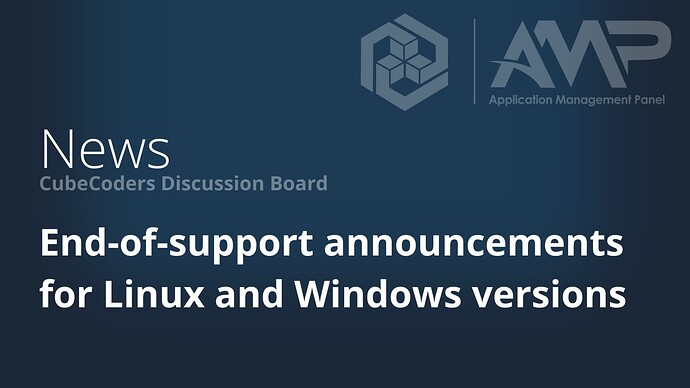 Later this year, we will be ending official support for the following operating systems.
While AMP may continue to work on these systems, no further effort will be made to ensure compatibility - nor will support be offered for any issues arising as a result of using these systems.
We anticipate officially making these support changes between August and September 2023. Shortly after that we may begin moving AMP to run on newer versions of glibc on Linux, which may prevent it from running on some of these older systems.
Debian 8, 9
Debian 8 reached the end of its extended LTS support in 2022, and 9 of its regular LTS at the same time. The lack of security updates and packages that are falling behind means that we'll be dropping support for these versions.
This will make Debian 10 the oldest supported version.
CentOS 7, 8 (Non-stream versions)
While CentOS 7 doesn't officially reach EOL until 2024 - its age means that a large number of packages and libraries are too out-of-date to run a lot of supported applications. Additionally, it's successor - CentOS 8 was EOL'ed in 2021.
For CentOS, this will make the two current 'stream' releases the only supported versions - which at time of writing are CentOS 8 Stream and CentOS 9 Stream.
Because CentOS Stream (currently version 8/9) is a rolling release distribution, we will be recommending that CentOS users in general migrate over to Rocky Linux of they wish to use a Red-Hat-Like distribution.
Ubuntu 18.04
Regular support for 18.04 ends in April 2023, support beyond that is only available via an enterprise support package with Canonical. As such we'll be dropping mainline support for this distribution. This will make 20.04 the oldest officially supported version of this distribution.
Windows Server 2012 R2 / Windows 8.1
Official support from Microsoft for Server 2012 and Server 2012 R2 is ending October 2023. After this point these versions will receive no further security updates. The lack of ongoing security updates means we'll be dropping support for these versions.
Windows Server 2016 shall become the oldest supported server version at that time.