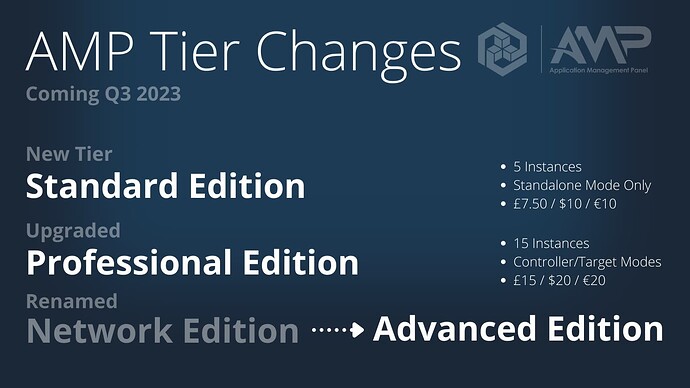 Later this year we'll be changing the AMP tiers, pricing and feature sets. We're making these changes to allow a little more flexibility for customers to pick a tier that makes sense for them.
Existing licences retain their existing features and limits.
The changes we're making will only apply to new licences. Your instance limits will remain at the same limit that you had at the time of purchase, as do the features that you had access to.
Standard Edition (New Tier)
This replaces the existing AMP Professional tier for most new users. It has the same cost of £7.50 (Approx 10 EUR/10 USD) and will have the same instance limit of 5 instances. But it will not support controller/target modes, so only standalone mode will be available.
Professional Edition (Upgraded)
AMP Professional will become a higher tier. It will cost £15 (Approx 20 EUR/20 USD) and have an instance limit of 15 instances (So 2x the cost but 3x the number of instances, making it better value) - and will also allow for the use of Controller+Target modes.
Advanced Edition (Renamed)
The 'Network Standard/Premium' naming is going to disappear and it will simply be Advanced Edition. The pricing and features will remain unchanged from the current £30 GBP for 50 instances (Again, 2x the cost and a bit over 3x the instances). Network Premium will also be renamed to Advanced Edition, but will indicate that it's the subscription version in other ways.
Enterprise Edition (Unchanged)
No changes are being made to Enterprise naming or pricing as part of this transition.
Upgrades
We plan to make it easier for users of one tier to upgrade to the next, just paying the difference and making it easier to start with something smaller that grows with your needs.