OS Name/Version: Ubuntu 20.04.1
Product Name/Version: AMP v 2.4.1.2
Problem Description: After setting up a new Valheim instance, I can't interact with it in anyway. I just get "Failed to login to remote instance. Invalid Username or password.".
AMP instance Valheim01 is now running.
Managed remote instance Valheim01 at http://127.0.0.1:8082/
Authentication token for xxx requested by ManageInstance on behalf of xxx
Returned exception from API call ADSModule/Servers
SocketException
[0] (SocketException) : Connection refused

Additionally, when I try to login to the instance from the Valheim client, it fails with "Failed to connect". Another thing I noticed is the logs say the instance is on port 8082, but the "Instances" page says it's on port :2456 and status is "Running" but CPU and Memory usage are all 0.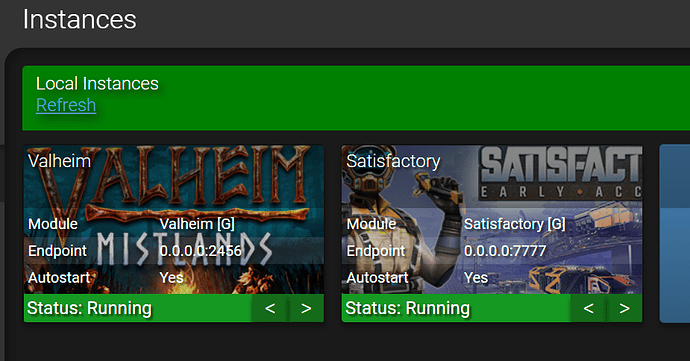 Seems ampinstmgr status says Valheim is on port 8082 as well:
amp@xxx:~$ ampinstmgr status
[Info] AMP Instance Manager v2.4.1.2 built 21/12/2022 17:55
[Info] Release spec: Release - built by CUBECODERS/buildbot on CCL-DEV
Instance Name      │ Friendly Name    │ Module     │ IP              │ Port  │ Up
───────────────────┼──────────────────┼────────────┼─────────────────┼───────┼───
ADS01              │ ADS              │ ADS        │ 0.0.0.0         │ 8081  │ ✓
Valheim01          │ Valheim          │ Generic    │ 127.0.0.1       │ 8082  │ ✓
Satisfactory01     │ Satisfactory     │ Generic    │ 127.0.0.1       │ 8083  │ ✓

Steps to reproduce:
Setup new AMP instance 2.4.1.2 on Ubuntu
Install Valheim instance all default settings
Go to Instances => Double click Valheim
Actions taken to resolve so far:
ampinstmgr --nocache upgradeall

Did sudo apt-get upgrade and update. Nothing's worked.
I've also tried installing other games like Satisfactory, very similar results. Port shown in instances tab is wrong and I get invalid usenrame/password error when trying to manage the instance in any way.