OS Name/Version: Ubuntu 22.04.1 LTS, Proxmox VE 7.3
Product Name/Version: v2.4.0.10
Problem Description:
Players cannot join the Valheim server. They get a 'can't connect' message. The server runs fine on my local network, using the local ip or looking for it in the community server list and I can connect to it without an issue, but anyone from outside cannot (the server name does not show up in community servers, cannot connect using local ip:port or public ip:port).
I run amp on an ubuntu vm in proxmox.
Actions I have taken:
Following the steps in the "diagnosing connectivity issues" section I cannot see any of the 'ticks' talked about in the guide. So I am assuming the ports are not listening? Not sure how exactly the output is supposed to look like.
I walked through all the other stuff too, firewall seems fine.
And I set up port forwarding on my router
Players used the public ip.
But I also had them try the local one just in case, obviously did not work either.
Since I cannot upload more than one image fine here a collage: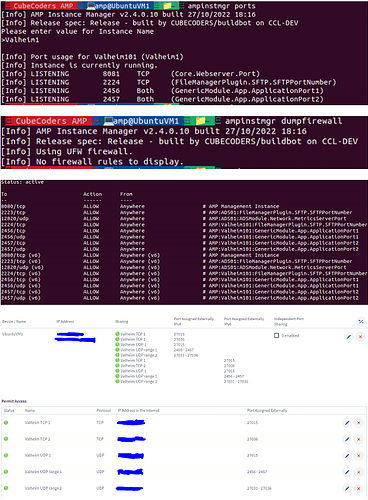 So, anything else I can try to fix the issue?