OS Name/Version: Windows 11
Product Name/Version: AMP Release "Decadeus" v2.4.6.4
Problem Description:
So Minecraft Bedrock was just updated to 1.20.30. I had a schedule set up so that when a player joins or leaves the server a message is sent to discord and a mesage is sent to all players in the server. However, since the new update that schedule has stopped working! It sends a message successfully when a player connects but when a player disconnects no message is sent to either the discord server and the players within the minecraft server. Also the player count always reads 10/10, I will put a screenshot of this below. Any help with this would be amazing! Thank you!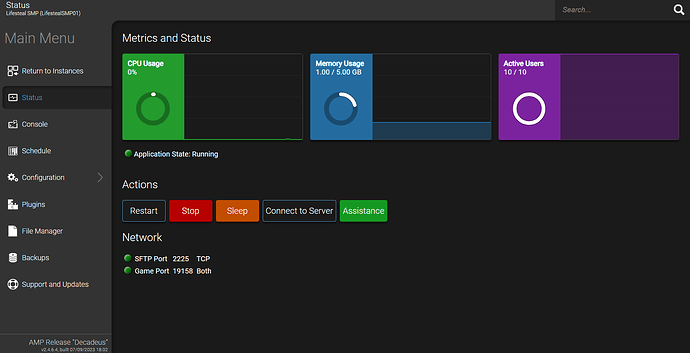 Steps to reproduce:
Step 1: Update Minecraft to 1.20.30
Step 2: Make sure the schedule is enabled
Step 3: Join and leave the server
Actions taken to resolve so far:
Tried getting a new WebHook URL for discord, didn't work.
Disabled and renabled the schedule.
Removed the schdule and added it back again.
Again any help would be much appriciated!