OS Name/Version: Windows 10
Product Name/Version: Decadeus v2.4.3
Problem Description: Hi all,
I have been trying for some time to get two of my instances to do auto updates(I only have two), a Icarus and Satisfactory server. I have followed some steps after I reached out to CubeCoders on youtube and the instructions I received dont appear to work. Here are the instructions and what my settings are. Have I done something wrong?
Create a 'Time' trigger to run when you want AMP to check for updates. For example every 6 hours or every day at 3AM say. 2) Add a "Check for available updates via SteamCMD" task to that trigger. 3) Create a 'Event' trigger to run when "An update is available via SteamCMD" 4) Add a "Update the application and restart it if it was previously running" task to that trigger.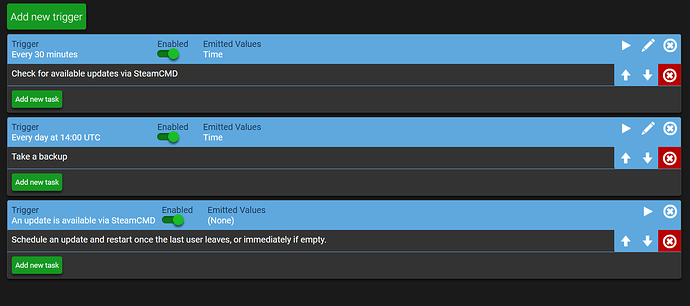 Actions taken to resolve so far: Tried different combinations and no change.