Hello, i have a Minecraft modded server and a Valheim server run very fine with AMP.
But i have an issue with an Ark server.
System Information
| Field | Value |
| --- | --- |
| Operating System | Ubuntu Server 22.04.2 |
| Product | AMP 'Decadeus' v2.4.4 |
| Virtualization | Proxmox 7.4 |
| Application | Ark Survival Evolved |
| Module | Generic Module |
| Running in Container | No |
| Current State | Start |
Problem Description
Issue
The server is home server in a DMZ behind a Sophos XG utm firewall, the public ip is static.
The server start without issue but its impossible to join, in steam server list the server appear with no map and 0/0 player.
In amp the server is set to use Extinction map with 70 players slots
Reproduction Steps
Start Server
Add it in Favorite Steam Server list
Actions taken to resolve so far:
Restart server
Change map to The Island
Change multihome IP Bending
Disable Firewall
Disable CrossPlay
Disable valve anti-cheats
Change port
Recreate VM and reinstall AMP & Ark
Update ampinstmgr with ampinstmgr --nocache upgradeall
Last check :
if i use ufw status i have the correct port opened :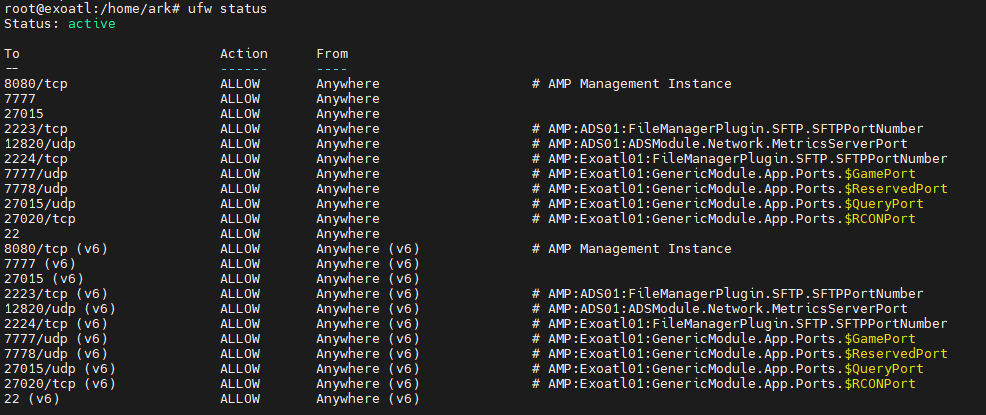 and if i use ampinstmgr ports i have 8080 ports, 2223 ports and 12820 but no 7777 port and 27015 port listening, i think it's the problem (but I'm not sure) , how to resolve ?
Thank you